Version française.
The cattery
The Skogkatt
Pictures galleries
Informations
Pré du Walhalla on
Ratatosk Feux d'Aurès*F
European Champion FIFé
Born on 03/09/2000
Brown mackerel tabby and white (n 09 23)
Genotype : A+a T+tb D+_ Ss+ i+i+ w+w+ O+Y
Sire : IC S*Mar'Michel's Bombastic (n 09)
Dam : GIC Jord de la Cachouteba*F (n 09 23)
Breeder : Sandra LANTAIRES
Pedigree
Photo gallery
Litters : 1 - 2 - 4 - 5 - 7 - 8 - 10 - 16 - 18 - 22
Ratatosk is a massive cat, having a strong skeleton. He has a very dense and soft fur. Due to his distribution of color, he has the look of the wildcat. He also has a fantastic character : kind, affectionate and always in lack of cuddles.
Ratatosk is our first male for breeding and we really do not regret this choice.
Ratatosk passed away on July, the 5th 2014 after a testicular tumor which degenerated into widespread cancer. We hope that our little squirrel (see Norse mythology) joined Yggdrasil and can finally put a little whorehouse in Walhalla ...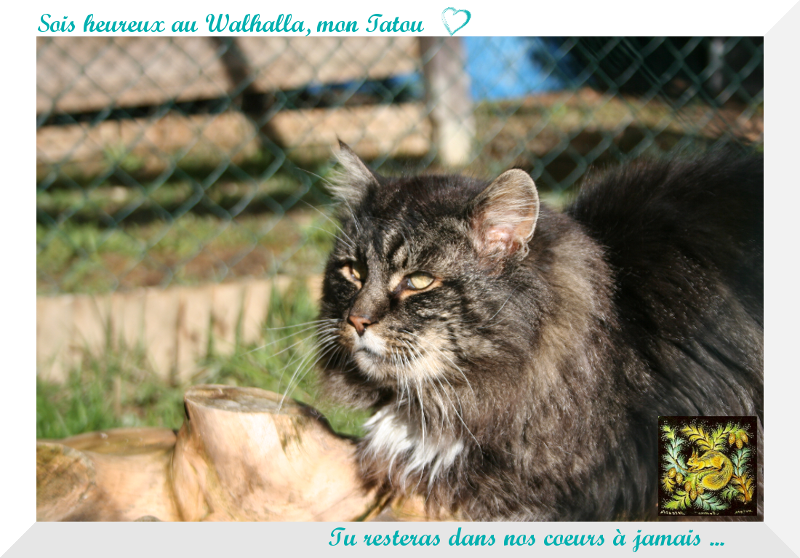 Meaning of his name : Ratatosk was a squirrel in the Scandinavian mythology. It lived on the tree Yggdrasil and made comings and goings enter the top where lived the eagle of the knowledge and the roots where lived the snake Nidhogg. Ratatosk carried the insults between both ! It was vindictive and hawked many gossips.
Top